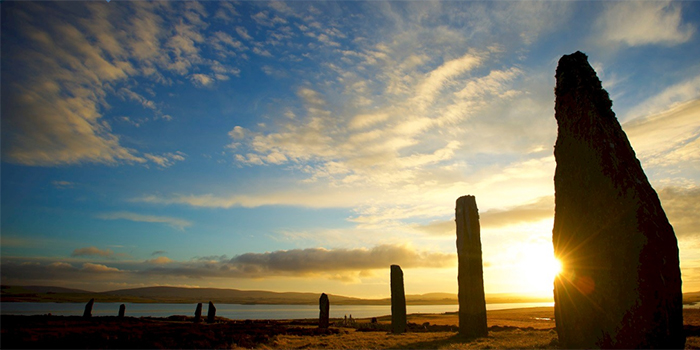 Podcast: Play in new window | Download
Historic Environment Scotland
01/07/2020
Andrew Nichol - Deputy Head of Archives

---
Andrew Nichol, Deputy Head of Archives with Historic Environment Scotland, provides an invaluable window into the scale of work required to manage 50TB of data and catalogue a 30TB backlog. He shares his great enthusiasm for the shift to digitisation and the use of online resources to enhance our experience of archived collections.
Please Note: This is an automated, machine-generated transcription. We have presented this 'as is' and have not undertaken any editing.
Hello and welcome to the max communications 2020 podcast a series of podcasts where we explore various archives and collections my name is Faith Williams and I'm joined today by Andrew Nichol Deputy Head of Archives for Historic Environment Scotland. Andrew would you like to introduce yourself and have a we talk about how you came into your position yes hello thanks for inviting me to talk today about this I've been in historic environment Scotland for a number of years now in a few ruled I first started working on the Scotland's places project when historic environment Scotland was previously they're all Commission on ancient historic monuments for Scotland and I handled the work around the transcription of the historic documents on the website so lots of information about 18th century taxation and 19th century Ordnance Survey name books and so I liaised with a lot of volunteers virtual volunteers out in the world who got together to help us transcribe these documents to make them available searchable for family historians local historians and then on after that I did a little bit of work with scran as the development manager a new digital content layer and promoting that and then for the last I think it's four years now I've been deputy head of archives looking after a fantastic collection the national collection of architecture and archaeology in Scotland along with a really great team of people archivists conservators librarians photographers we've got a really good team of people there and a really great collection to be working with so how do you spend an average day Oh crikey I'm not sure what an average day is I think because we're quite a large team there's about 30 of us in total in the department we often have a lot of planning meetings and catch ups which are a necessary part of life and work but all of those meetings and planning's they we've got a lot to do with the collections themselves we can often be stood in the middle of a strong room looking at boxes and trying to figure out well what are we going to do with this where are we going with that collection how is the cataloguing going on what's in that box over there and do we know what's what's happening and and really it's it's planning planning various projects for cataloguing for digitization for making things available online for exhibitions so an average day often involves a lot a desk work but then also walking the stores the strong rooms looking at boxes seeing what's there and the some of the great things about it is opening a box and finding things that we didn't know that we had that's that's a big part of what we do still the historic environment Scotland is mainly focused on historic buildings monuments and so what makes up the bulk of your collection in terms of physical format and content we have a variety of physical formats we hold probably about 4 to 5 million items in total over about 25 kilometres of shelving and that's the physical archives architectural drawings are a large part of what we have so we have flat flat paper up to about yo size so we've got huge number of drawers large plan chests throughout the building we also have architectural drawings that are old so we've got cube tubes and those are stacked up - we've got a large photographic holding so we have photographic prints and we have negatives and we have probably a few hundred thousand negatives in our one of our strong rooms in Edinburgh and so that's the physical Holdings we also hold a tremendous amount of digital material that's born digital and also analog to digital digitized material and we're sitting in our digital repository with about 50 terabytes of data here at the moment so really there's a great variety of material even through two glass plates if I think about what we've got we've got through two glass plates as well from the 19th century so we've we've pretty much got everything from parchment paper photographic material film glass plates and the digital access is your collection and why quite a lot of people were it's very interesting because like so many archives now we've seen a stabilisation of in-person visitors there's a bit of a drop over the past few years and many archives experience have experienced that so we've got local historians family historians University students we also have our colleagues within the organisation because we maintain lots of records relating to the properties in Kier in Scotland so Edinburgh castle Stirling castle those those buildings we've got a lot of archives really into that so our colleagues in conservation who look after the buildings they come and look at the material as well so we've got we've got those almost standard archive users local historians family historians and they are looking into maybe the history of their Street or their house or the town that their ancestors lived in but a lot of our usage is now online online users from around the world I think a lot of those probably are Scottish diaspora and descendants Scottish diaspora so they're looking at family history local history as well but our online platforms and there's a few of them at the moment I think we've got about five million users every year who log in from around the world and use user material either as a starting point to the research to come into the the search room to do more in-depth research or to use a digital content that we have there you mentioned that and physical visitors and they drop to know now stabilise is the difference made up by people visiting digital platforms yeah well I think it's I think it's pretty fair to say that the the the rise in digital online users far outstrips the number of physical users coming into the building and also the drop in physical numbers I think there's just a change in the way that people do research there has been a change in the way that people do research over the last few years all archives have seen it really with more material being made available online there's maybe a bit of an expectation that people want to see this material online I think lifestyles have changed so trying to get to an archive isn't always easiest thing and of course if you're on the other side of the world it's not so easy to physically get to an archive so getting material online being able to view material online is is really an important thing I'm an archivist so I still advocate being able to see the original items touch them smell them you know look at them close up that's a really important part of having archives and using archives but often people are looking for the information contained within them and they're they're happy to see a digital surrogate to to get what they need out of it you digitize what you focus on like what you prioritise do you prioritise documents because they just need the information or photographs because they look good visually what do you focus on we've probably got a couple of ways of looking at our digitization we react to the needs of the public first and foremost so if people get in touch with us and say I can see from your catalog that you have this item relating to this building here and it could be a drawing or it could be a photograph but it doesn't seem to be digitized and it's not available for me to view we would probably look at those items and and and be able to say well we can fit that in you know one or two items we can fit that into a digitization schedule and get that worked through the system and available online so you can see that pretty soon we also respond to commercial orders as well because architects use us in their work if they're looking at older buildings and they needs access to older plans and drawings so we will digitize those and supply those for their business purposes and then for the past few years we've also benefited from investment funds from within the organisation to deal with digitizing material and making it available online and also dealing with a large backlog of born digital archives that we have so we're cataloguing those and making them available online but what we've done in our main investment digitisation is look at collections that have never really been digitized maybe haven't been catalogued certainly not available online probably pretty unknown and looked to see what we could do with those we like to find collections that have a national coverage of Scotland so that when we digitized entire collections that has relevance to everyone wherever they might be in Scotland we've got to figure out whether the metadata the catalog information that we can create or that we have allows these things to be found when we get them online and really also try to find collections that are sating they've got to have an interest to them and the last few years we've tackled a number of collections which really have sparked a lot of interest from the public they're from the 1970s or the 1960s and I think sometimes we don't realise that the 1970s are really a part of history that people like looking at so we've got wonderful photographic surveys of Scotland it's almost Google Streetview before Google Streetview because we've got these pictures of streets and these pictures were taken for the purpose of recording buildings but then you also see the kids out playing on the chopper bikes and there's people there's fashions if we've got shop front windows we've got amazing records there of well what the high street used to look like so there's lots of different things that come through which give interest and a wee bit of excitement for people personal history some people kind of looking back and remember what is it like when they were kids yeah there's there's some photographs where the occupants of the building can be seen peering through a window or they're standing at the front door and and that's really nice to see as well we are in architectural archive that's the purpose of our collections but within them you can see the social history you can see people you can see the people as part of these buildings and the towns and the villages that they're in when the overlapping of themes obviously you do focus primarily on the architectural themes but do you work with other organizations and to develop other parts of your collection or they do share data things like that we do because of historic environment Scotland has a number of roles in in the country looking after the properties and care the castles the cathedrals that's one of our rules we have our archive function as well we're also a part of looking after the historic environment and serving the historic environment so our colleagues we we have archaeologists and architectural historians on staff and they're often in touch with local authorities in Scotland and they work with the local archaeologists the Titan planners the planning departments so on one level that that's a very involved part of our work with ETS as a whole we also have good working relationships with other archives here in Edinburgh and also elsewhere in the in the country we hold the Scottish portion of the era films collection which is a wonderful aerial photography collection dating from 1919 and we hold the Scottish portion our colleagues in historic England and in Wales in the Welsh Royal Commission they hold the other parts there and so we we have one website Britain from above where we've brought together I think about a hundred thousand images from from that one collection and make it available but also the nature of archives as they always are we've got some some bits of material so we've got an architectural collection from the practice of Roe and Anderson in Edinburgh in Bru University have other parts of that collection because he designed large parts of the University campus and then the national records of Scotland have the prisons that he designs so I we've got good working close relationships with with other archives in Edinburgh and beyond well that would present challenges presumably what what kind of them things to come up again what would you say is this particular to your or group that you have to manage one of the I think one of the challenges like every archive we have a backlog so we've always we've always managed to collect things often as a as a rescue a rescue operation two or three years ago can't remember exactly we had a phone call a fortnight before Christmas seeing an architectural firm was closing down and would we be able to help with the archives that they had and initially we wondered whether any of the other local archives would be able to help out with the collection but with two weeks notice and quite a large collection it wasn't really possible for local archives to step in and so we we said that we would step in we knew that the architectural firm had been around since sort of 1910 1920 so though there was good material there to illustrate the built environment it was Dundee based so east coast of Scotland material there Dundee Teesside we thought that we would see 20th century and so off we went and we started and I think we spent about four or five days trying to get the material packed up but the surprises that came out in it were really quite interesting when we thought we tackled one area where things were stored we saw a hatch in the ceiling and all of a sudden the attic appears and managed to climb up into the attic and we were removing drawings from the 1860's yep it really did surprise us because we thought how come you know this practice was only founded in 1910 1920 their debates work why have you got drawings from then and it's all because different architects would come into the practice and start working they bring drawings from previous work that they had done and they were just accumulating and accumulating so so that material came in and the challenge that we had of course was trying to process it trying to get it at least basically listed in catalog so that we could retrieve it if anyone wanted it if anyone wants to see it we don't yet still have a detailed catalog of it but we've got a working catalog so that if somebody says do you have anything on this we can look through the list and say yeah we seem to have something there and that's when we can get things out the strong rooms and the public or other people can look at it and see if it's what they're interested in so I think backlogs are always challenging but they throw up surprises and great things at the same time hopefully getting down the backlog what are your hopes for the future of the archive what direction do you think would be good to go in I think it's clear from our the last few years of work that we've been doing that we are shifting to more digital environment and that's for allowing access to the physical archives through digitisation programs but also the born-digital material that we have we take material from archaeological units in Scotland architectural practices in Scotland and they just have moved to digital themselves you know in terms of how they create their own records and how they manage those records so we we are gonna see more and more material moving online I think I said earlier we've got about 50 terabytes of data in the digital archive at the moment but again there's a backlog and I think we've got another 20 to 30 terabytes of data that has to be processed and it's got to be catalogued it's got to be identified in some way to be able to find herbal online so for the next few years we're certainly going to be concentrating on the digital we know also we have to do more with the physical and so maybe in the next few years we've got our fingers crossed that will be moving to a new building to accommodate the physical archives and more more fit for purpose storage for the archives so we're not going to be idle for the next few years certainly is the archive based it is and it will continue to be based in Edinburgh we we have five strong rooms in our one of our head office buildings in Edinburgh at John Sinclair house and then we also have a number of a couple of strong rooms with the main building where we manage more of the material as well okay and I you mentioned obviously you have a lot of dealings with Edinburgh Castle probably our most famous monument and I know you've done work for the Danny Macintosh classic school apart but what would you say is the most interesting item that you have just in your opinion mm-hmm I I'm I'm not sure I'm not sure if I could see one particular item like well I the one thing that one of the collections that we have it's an architectural collection called the dick petty Makai collection it was an architectural firm based in Edinburgh from about 1850s through I think it still exists but in its heyday it was doing lots of public buildings fetes College and Edinburgh the Morgan Academy and Dundee but as you look walk along a street if you see a bank building that looks you know Italian it in style and you see these bank buildings and you walk along George Street in Edinburgh and they're now converted into restaurants or offices or things like that I quite enjoy looking at a building and thinking I wonder if that's a dick paddy Mackay building and do we have the plans for it so I can get my mobile phone out and do a quick search on Kanwar that's our mean catalog and see whether or not we have a drawing or a photograph of it in the database to see whether or not it's there and so the dick petty Makai collection really it and it's really great because you can be anywhere in Scotland and you spy a building a sandstone building when you think yourself that was a bank it looks it looks kinda like Dick petty Makai and and that that's the real fun thing for me that I really enjoy that collection yeah I mean the style style in their buildings they're they're they're pretty good pretty solid it's it's good architecture but it I like I like the ability to see things in the street you know in person and then think where the archives for that we're are the drawings I remember a couple of years ago I was at a conference in Glasgow in the the the Grand Central hotels just at the central railway station and I looked at the building I thought my wonder and sure enough we had the original plans for that building we have the original plans in Edinburgh and it was great to see it was great to see the the original plans no ensuite bathrooms for any of the rooms and you know nothing like that but then to be able to see the hotel and how it was today and then be able to look at the original plans and see the changes that's always exciting that's always good fun I mean I've used Canmore to look at ghost signs like what used to be their old old railway lines have been torn off it's really interesting to see what your neighborhood used to look like yeah that's that's the great thing about it I'm I'm sitting here looking at a window and I can see tenements from where I am and I was quite interested a while ago about that and I thought I wonder I wonder what's what this used to be like and when when was this built and I was able to use Canmore to track down some early photographs from about 1910 of these buildings and looking a bit more closely down on the ground floor there was a sink of Bert's cooperative society branch so you know a local shop was there it's not there anymore but when I looked at the building again I realised from the photograph there's a bit of moulding stored moulding that didn't match anywhere else on there on the terrace on the run and that's where the co-operative was and it's because they had signs up and they had different things going on so the ability to use the archives to look at your local area to see what things were like and also explain why things are the way that they are and how things have changed over time is really good I know that on television lately they've had a great series about looking at the history of your home and the sources that we have really do for into that sort of thing to look at your street and see what your street used to look like and these collections that we have of the Street View you know being able to go along a whole street and see how something looped in the 1970s compared to today that's that's really great to have you compared to it to Google Maps but obviously that's a very complicated tool but do you have the ability to kind of look at a map and place certain photographs or is that far too complicated and much too far in the future to think about no we we've always had a history of in our cataloging of trying to geographically locate the the subjects of the archive so if it's a building in the architectural plans we would create a site in our database and we drop a pin on the map and so we've we've always done that and one of our websites is called past map and that's a past map tour or UK and that allows you to zoom in on anywhere in Scotland and you'll start to see these dots appearing on the screen and if you click on a dot it will then take you through to Canmore and it'll show you what we've got for a particular area now it might just be a description of a building there might not be any photographs or archives associated with it or you know there could be 20 30 40 photographs associated with it so we've we've always done very well geographically locating our archives the problem that we have is is the scale now of some of our collections and being able to do that with the resources that we have but you can look at the past map viewer you can zoom in on a particular place and you can start clicking on dots and you can access things that way the good old-fashioned other way is just keyword searching from our our main catalog descriptions and trying to get catalog descriptions that that work you know that are sensible that are good that are informative that's a challenge and a skill that we we're always trying to keep on top of what was it passed back you've got pass back and more you've got where else would you point people in direction or you could also go to Britain from above and that's the aerial photographs from the 1920s through the 1950s and that covers the whole of the UK and you can also contribute to that because you you a member of the public can plant a pin and say that building there is such and such a building or that really laying station that really line closed in 1972 and I think we've got over a million contributions from the public on that website and it's really great for people to look at and again just see the development of towns and cities because it's aerial photographs it's a bit like Google again but it's that historical view and it allows people to reminisce and think about how their towns and cities and villages used to be so Britain from above scran Canmore past map I don't think you've forgotten any there must be another one that I've forgotten though and hopefully in the future well hopefully in the future we're looking all these single could we you know we've got different functionality on some some of these websites for different ways to interact with it and we sort of looked at them and said we really need all of this functionality over all of the websites and then we progress to the next stage when we said do we need all these individual websites we did not be better for one website that people could go to to access all that information and that's in the plans for the future as well as being able to to bring all of these resources together and all of the different types of functionality into one one platform that people can access all the information from looking forward to it we have our fingers crossed yes challenges challenges is so interesting hearing by you talking about how people relate to their built environment more personal than I think people might think yeah yeah I think a a lot of people take things for granted you know maybe don't look up at buildings don't look around at the the environment that they're in but if you're interested in the history of where you live for he grew up there's certainly a good amount of material that's available from historic environment Scotland to help you understand that area as well so final advice is to be nosy about your area yeah ask questions look at things and look at things and think why is that like that think about it and see if you can find out the answers it's great fun thanks very much.