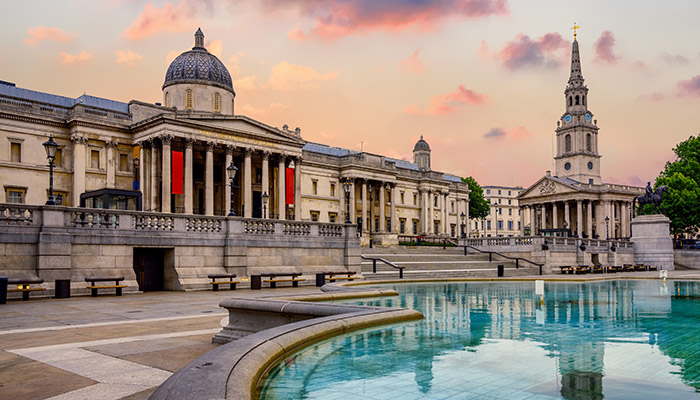 Podcast: Play in new window | Download
National Gallery
01/10/2021
Nick Smith - Head of Archives

---
Nick Smith, archivist for the National Gallery, talks about the work that has been taking place under lockdown. Making the most of a bad situation, the National Gallery team has spent the last year working on transcribing material, answering an upswell of FOI enquiries and utilising digitised material for research purposes.
The archive is separate from the National Galleries' art collection, but no less interesting. Nick talks about the interesting material he takes care of, including personal diaries, prophetic letters, and ransomed paintings!
Please Note: This is an automated, machine-generated transcription. We have presented this 'as is' and have not undertaken any editing.
Hello and welcome to the Mass Communications 2021 podcast, a series of podcasts where we explore various archives and collections. My name is Faith Williams and I'm joined today by Nick Smith, archivist for the National Gallery. Hi, Nick. Would you like to introduce yourself and tell us about how you came to be in your position? I yes, sure. Well, first, thanks very much for inviting me to participate in your podcast series. I join the National Gallery in April 2019 as Office for Officer and Data Entry Coordinator, so I got about a year under my belt before we went into lockdown and my responsibilities embrace historical records and information rights compliance. So there's quite a variety of tasks which fall between these two areas of responsibility. Previously, I'd worked with the Victorian Albert Museum for eleven years as one of the office managers in my time there, I got a couple of small displays, one which looked at the first director, Henry Coles and overseas shopping activities in the 19th century . And the second was the kind of anniversary display on and some of the books that were owned by the Asian century actor David Garrard, which potential these platforms in which I was writing at the time. And I did my graduate traineeship at the Oxford University Archives and and prior to that, I did a three week, three month stint at the National Maritime Museum working there. So my career in some respects is really nasty, orbited around museums and galleries and mobile and design, really, for some, very fortunate, it's worked out that way. I entered the archives profession as a result of a career change, I think, and following a doctorate, I worked freelance for university presses , didn't share natural biography, initially as a future researcher. Then I diversified into archives and listened in researching deposits of residential type interiors related to the different individuals who are subjects of the memoirs. And that perhaps planted a seed in my mind and. There's a few years later when I decided to take things in a different direction and it was almost I gravitated towards. And so that's the potted history of my involvement in our lives up to today. So you mentioned you kind of had a year in this role where you've been on site and then a year on the block. Do you have different if you find that? And. Initially, it's very different and fortunately, very quickly, ah, I think teaching got systems in place whereby we could dial in remotely and have access to all of the galleries and drives and applications. And so the major sense of absence really has been access to the physical records and we have found so much in the place and the galleries board of trustees minutes. And oh, well, there are some districts are quite recently, but we make them accessible and through the gallery website up until 1919 and simply a series of stock books which are part of the Thomas Agnew's and Old Masters data archive. So to the extent we've managed to use a couple of these resources to continue work, both in answering emerging countries and some other projects and the trustees minute books that she provides kind of ancillary lockdown projects and for some staff have been redeployed, namely transcribing indexes to kind of help enlarge the access points to this particular resource. But as. The lockdown seem to coincide with a significant uplift in information compliance work, and we have about an increase of 143% increase in inquiries over the previous years and submissions, which was quite a surprise. I think particularly as they rule. Very different types of inquiry, there's no obvious logic as to why these various requests are being asked at a particular points, and most of these could actually be responded to from access to electronic records. So my absence from the gallery and programmatic inspection response things. And so you get into a rhythm, really, that you find yourself through and you very quickly adapt to the new environment trillions. And this place will be learning lessons as to how we can then kind of apply some of these new working methods back back on site when we return. As you say, I think a lot of organizations have to pivot a bit into projects that maybe were on the back burner that they can just access and complete whilst on site. What do you have for piling up in your to do list that you can't do at the moment? Well. There's quite a major building project, which is coming to a close by spring, which is involving the relocation of a lot of stuff from their present offices to a newly developed facility on the main sites. And one of the kind of internal courtyard might, well, it's been kind of repurposed. So there's quite a lot of sanitary records which can be heading my way as staff and offices and do some housekeeping work. And fortunately, records management showing the gallery. And just over twelve months ago, to roll out the SharePoint electronic records, managements and projects. So that was a lot of appointments and couldn't quite neatly dovetails into this office project projects and the transfer of records to the to the record store. And so that's something you really do terribly much without having physical access to records. Well, we get kind of set lists of files which will eventually be physically transferred from this kind of nation and these onto the records management motion of come. And it's was useful to be able to check the physical contents of what you're documenting and to add additional information to your records to facilitate retrieval and. one of the other projects we're doing is producing item level descriptions that are 19th century letter books. We've actually stretch since the early 1920s and then they can provide a wealth of information regarding galleries, activities and over a 70 year or so period. And these are actually something that Max is helping us digitize from microfilm, and we can look these down to ice and level, and each phone contains about 1000 pages. So that's quite a significant exercise over the years. We've got up to about 18, I think, 24. So there's a visual way she gave us a picture. Digitization will make funding work from that particular project, irrespective of where you happen to be based. So we manage to pursue even slightly more efficiency than has previously been the case. So what type of material do you work with? Because obviously, the National Gallery has its collections, which is separate and libraries that separate what you work on, the library and archives that they publish for the National Gallery sections, and which was established to facilitate the gallery's strategic research mission and to make records open to the widest possible audience. And guess where where there's basically the same offices somebody made these things, but are records that you did express most things and peter pace and they fall into each of the broad categories. So we hold records, the gallery's activities from its foundational tool to the present day. These include institutional or public records generated by the car itself. And examples of which should be the board trustees, annual reports and administrative correspondence. We have very large collections of 19th century naturalist and 20th century registry forms. Especially cruel censorship files, Photoshop spaces, patrons, press cuttings, etc.. And then other private papers relating to individuals or activities closely associated with the gallery, such as the first director, Charles's Reflex or troubled books, and who like checkbook to spend many months. And for the traveling around continental Europe and looking for a painting suitable for the gallery's walls, and he could compile these notebooks, which he which he recorded his impressions of the consumer and images and places that it changed. And in fact, he actually died in prison in the course of one of his overseas trips. And he was buried. But the Royal Society won't change his remains. Repatriation. So he was an exceedingly brought over and buried in tens of the green cemetery. He's also got a large group of papers to go second branch William. And its first keeper, Ralph Werner. But more recent acquisitions include the recall Sir Thomas Agnew songs mentioned previously on the Beatles Fan magazine. And both these acquisitions, Gary's research focused on buying, clenching and display, said the public records primary documents the 2303 paintings in which his collection, but they also record the history and development of the gallery as an institution and its impact on Ukrainian national heritage more broadly. The archives also responsible for the historical tutorial series or the object files, so every painting in the collection has until, say, which contains things like research notes, maybe empty space footnotes and other useful materials which run through light only painting these. This particular system was established in the 1920s and. That's largely continued up to the present war, we're kind of winding back from this particular method of organization and during the 20th century. Some documentation was removed from the archive and pushing the dossiers and this kind of practice that we're reversing when we come across the historical records of experience and replacement from Xerox. But the dossiers and kind of just kind of one stop shop for staff and researchers who are interested in a particular painting. I've mentioned the digitized records and there are there's a separate spacecraft library and notice the many, which because it was developed in response to the rubble, which depositing is an extensive physical collection of the Courtauld Institute. And although this is separate surviving spacecraft archives. And then there's also an extensive safety library. Although there are some recordings in the institution, it's still. So that's the a broad overview of the kind of collection we have. Here, researchers say the collection assesses the material. I suppose audiences fall into two broad types. There's the Internet users, primarily retirees, curators who are working on catalogs who watch historical monographs, articles, reception exhibitions, that kind of stuff. The members of the learning team, you see all kinds. And for a few years now, we've joined in an event called Articulation, which encourages students aged between six and 19 to engage with all the way of developing their public speaking critical thinking skills. And they provide us with a long list of paintings and the and the graduate trainee is investigated this list and shortened it to those paintings, which are particularly interesting back stories. And they make these dossiers available to the students who find this. You come in and gives the kind of short presentation generally about the whole kind of holdings. Buildings in the state still use the archive, particularly when they're doing gallery renovations and investigating historical pigments. When considering how paintings of previously hung in these historical spaces and more broadly investigating the kind of the footprint of the gallery photographs of that kind of stuff. And then there are external reasons, primarily and academic researchers. The UK based international we get quite a lot of them had before we went on lockdown, quite a steady stream of graduate students coming through our doors and especially from London based launch institutions, which the told Kristie his education. And we both work institutes and with a lot of the the Swedish Academy to operate, students have a history, traineeship and revelations culture and say the world with students coming in the winter and work intensively on a particular painting and for the future and drafting a catalog entry for this particular painting. And they make crucial decisions and other resources for that. And we might also be welcoming deal with the problems research into paintings such as through I can use is quite a popular sculpture, so we actually had quite a lot of research because of that nature. And in 2020, and there might also be private owners investigation paintings, which may have been lent, which at one point in the history or otherwise looking for information. So you've talked about some of the challenges you've come across, particularly in the past year. What are your hopes for the future of their foreign? Ms Spence, we're coming up to our image review for accreditation. So what are the major trophies that we accredited? And I suppose that is something that's I don't know to what extent from Chinese Accreditation Times Table has been affected by the lockdown and pandemic, but some space in some respects has been not only in our own preparations for that. It pretty would have been trendy to have full time on site dealing with some matches. And production resumed the gallery's oral history project. And we have a bicentenary celebration coming up in 2024, and I imagine that the archival contribution to preparations for that. So saying it seems like a fairly diverse set of future activities to mention. You mentioned the bicentenary with the collection going back such a long way. What is your favorite item from the material you work with? Well, I hope you'll indulge me, but just to myself, one of them is to see the diaries and keep them from when and where she described as what officials might. They knew some information and this contains loads of interesting stuff out the country between 1855 and 1877 and the kinds of pictures purchase where they were sold, restoration work for them to change, to frame building kind of security and crowd control measures which were in operation. one thing I was building work visits by distinguished people, and they there was clearly a rivalry between the National Gallery and the South Kings Museum as a forum for it to be quite interesting to read about. And the dance is really quite good for social media because the promotion structure was extremely kind of find the same kind of stuff. So there's a lot of entertainment there and find themselves resided on the site for this family. So you can read about the location where he was nearly poisoned by the new paint, which should have played through its walls, processing and sheer decoration that took place all the football term. Great to see the glass in his window, which came from the military barracks adjacent to the galleries. A little kind of nugget for social history there. And that's rather a point at Leicester, written by the electric chair Tulane, in which he declined an invitation to give a talk at the Ulster Golf Club exhibition in Belfast because his duty sense of American and hugely might not return to the for large events. And unfortunately, that was rather prescient as he was traveling on Lusitania, which was producing the same for whooping and 1915. And one item from the Agnese archive is on so strips of tunnels which have been mounted and framed behind glass. And these were taken from Thomas Gainsborough portraits of Georgiana Duchess intervention. And this painting, which had been lost for many years from the transfer population and was rediscovered hanging off a full face for America to just focus and purchase at auction by Agnew's in 1876. And they just stayed in their London showroom, and a couple of weeks later, it was stolen. And as it transpired by a well-known thief, Fort Worth, but periodically they would be sent strips of canvas with a warning that not see both police or otherwise to destroy, destroy the Premiere from tourism. And it wasn't for 25 years. And eventually, with the involvement of a detective agency called Pinkertons, that's one of the items traveled to Chicago to them and paid $25,000 ransom to secure the painting, and it was brought back to London and restored, which then very quickly it was traveling back across the Atlantic to New York because it was acquired by the Treacher and People Morgan. And although it was vention sold again, I it is now back in Chatsworth collections after 20 year absence. And maybe just three and three things. So currently appeals to me. I'm sure we'll find out from the site. Those are very interesting. I think people think that the bureaucracy of art is the least interesting thing about it. But when Pinkerton Detective Agency proved you wrong with that? Absolutely. I'm sure on this escape for a novel or the TV series that. Thank you for talking to us today. It's really interesting hearing about a material that kind of goes behind the scenes of galleries and and things like that and all the interesting material that is available for people in normal times to research their favorite artworks and also. And is there anything available to people to look of online once they're locked in their houses? And we do have a website which is named Main Page, and we do periodically track things on Twitter, although normally these since around particular campaigns or events, particularly, you can explore your archive. Otherwise, we're still open and for the nation, for us to do content to support your research. Yeah. And hopefully we'll get to be an on site visit sometime this year. Fingers crossed. Thank you for talking to me next year.