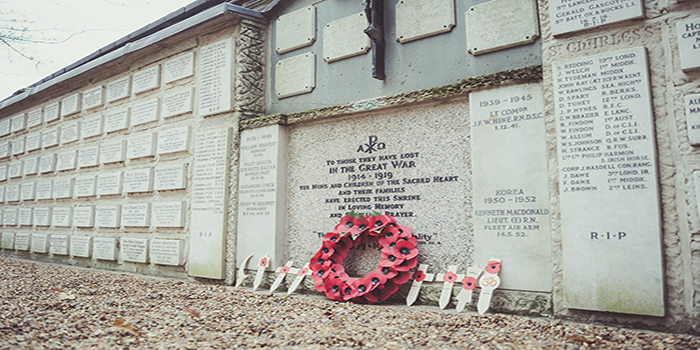 Podcast: Play in new window | Download
Society of the Sacred Heart
07/05/2021
Barbara Vesey - England and Wales Archivist

---
Barbara Vesey, has worked as the England and Wales provincial archivist for the Society of the Sacred Heart since 2012. Established in the early 19th Century the Society has since been involved in education of girls around the world, and in the UK since 1842.
Barbara talks about engaging with the past and present members of the schools, the notable achievements of the nuns throughout the years, and trying to promote the archive collections whilst remaining sensitive to the values of the Society. Some projects that Barbara has worked on include a Timeline of the Sacred Heart Society, and a joint exhibition with the University of Roehampton on a 300 plaque War Memorial initiated by the Sisters.
Links
Blog:
https://aralearning.wordpress.com/2019/11/11/lest-we-forget-sacred-hearts-war-memorial-barbara-vesey/
Please Note: This is an automated, machine-generated transcription. We have presented this 'as is' and have not undertaken any editing.
hello and welcome to max communications 2021 podcast a series of podcasts where we explore various archives and collections my name is faith williams and i'm joined today by barbara vesey england and wales provincial archivist for the society of the sacred heart hello barbara would you like to introduce yourself and talk about how you came to work in the society of sacred heart hello faith yes thanks um right so my name is barbara vesey yeah i've been a qualified archivist for about nine years and before that i worked in editing which have a lot of similar things going on but anyway and i have two jobs i work three days a week for bishopsgate institute which maybe you could cover in another another podcast i i can give you some names and uh what i'm gonna talk about today is i work two days a week as you said uh as the provincial archivist for the england and wales province of the society of the sacred heart which is an order of nuns that catholic nuns that was uh established in 1800 in france by a woman called madeleine sophie baja and she's now saint madeleine sophie and we have two of our sisters canelo canonized very exciting anyway and um i came to the role straight out of having done the archiving course at the university of dundee they did a distance learning they do a distance learning version of the course so um i yeah it was pretty much my first job and yeah i've been doing it nine years in fact sometime in april actually that i started so it must be nine years dead and i was there first what they call lay archivist uh before that it was one of the nuns herself who was doing the archives and i think someone that she'd passed away and it kind of had lapsed for a few years and they realized they really needed to get somebody in so at my interview there was there were two sisters and there was another archivist from working in a catholic archives whom they drafted in uh to so he could ask all the archiving questions and they could ask other kinds of questions and um yeah i just remember volunteering the information that i've been raised catholic and they were like no no no we don't we don't we can't ask that and we don't want to know it's not important but yeah it has helped a little bit just to kind of understand those sort of hierarchies and and what happens but um i inherited a catalog that was all handwritten and so i've spent most of the last nine years i tell myself that my pace is okay because two days a week is only sort of like four years i've actually been there uh so i'm mostly still kind of digitizing that which just means putting it into an excel spreadsheet and then importing it into calm database so um yeah i don't know if i've answered that first bit or talked too much already i know so ah you cataloging obviously you just said what else did you do kind of who what what was in your job description as it were uh yeah the usual kind of preserve and defend and you know look after the archive so yes so as i'm cataloging what i'm doing is going comparing the written handwritten catalog to what's actually on the shelves there's only two rooms it's not a huge amount of stuff basically because they were they're a teaching order they came to the uk to establish some schools in 1842 and at that time the uk included ireland so there's to this day there's still this particular a lot of sacred heart schools they're not all the society of the sacred heart so there's a couple of schools in ireland and in the uk there's still some schools in newcastle primary and secondary and tertiary schools in newcastle tunbridge wells hammersmith there was one in brighton hove and roehampton and i'm actually based on the university of roehampton campus because the university of hampton is made up of four constituent colleges and one of the colleges is called digby stewart college and that was established by the society and until recently like originally obviously the nuns were teaching in these schools but now as numbers have dropped and the sisters get older um they either have a role on the board of governors or not even that and there's still like a network an international network of society sacred heart schools but anyway the point of that was that the records that i hold are mostly uh they'll be um journal house journals like diaries and of the communities where the sisters would live and of the school there'll be school journals lots of papers to do with this with school governance and registers of students and things like that so um so i'm as i'm going through the catalog i'm looking on shelves to make sure that what it says is there is there and i'm doing a lot of repackaging so that things are preserved more effectively than they have been in the past so it's a lot of big purchases of archive boxes and acid-free folders and all of the usual kinds of things and so yeah so that's partly also why it's a slow process because i'm i'm conserving and preserving as i as i catalog are you still adding to the archive yeah definitely um either schools send us things or like d.b stewart college is still going concerned so i try and they don't have their own archivist so it's kind of a weird thing because officially i'm the society archivist but i do have some college records and things like that and i do try to still get like the newsletter and i'm i belong to like the digby steward association so i go to all the alum alumnae and alumni uh reunions and pick up stuff there from former students which is always cool and i usually put on a little display when they have their annual reunion of you know memorabilia they still have to wear these gowns on campus and stuff like that but um yeah so and then sometimes as the sisters get older again the communities that they have dotted across around the country close and they'll either move into the there's like a dedicated nursing home across the road from where the archives are as it happens so when a community closes i'll get like photos and other memorabilia from there other artifacts from there and yeah and when a sister passes away the nursing home will collect some of her things and i mean they don't have a lot of things obviously because they're nuns they give a lot of stuff up but their papers will come to the archives yeah that must have like quite a community feel to the archive then almost um yeah it's a strange mix because i'm actually the building i'm in is called barra house after madeleine sophie and it also uh doubles as uh sort of a a dormitory or a community of students who live upstairs so there's seven students living what they call in community and uh there used to be two nuns who lived on site as well but again that has they live in a different place now and um so there are university staff to kind of look after the students but but yeah um so i'm a bit isolated what's the point of that because a lot of the other lay staff actually work in offices like the provincial secretary and the treasurer and things like that they work in hammersmith because the hammersmith high school is still a going concern as well so they're on that site so i'm a little bit i mean i like it because i can just get on with my work and nobody really comes and talks to me apart from when i get researchers and stuff but uh but yeah um the sisters are wonderful people to work for they're very obvious i mean unsurprisingly perhaps they're very uh kind and uh considerate of what you know their lay staff you know might have trouble adjusting to some of the terminology or you know just finding our way around uh the society protocols and things like that mention some of the things in your collection but you know it goes fair way back what kind of other material do you have in your archive yeah so yeah apart from the paper stuff uh records and things like that we have loads and loads of photographs i remember at my interview being like oh the first thing i would do is you know like put them in acid free folders have i done that no not yet because it's so daunting and unfortunately a lot of the photographs don't tell me who they are you know who's in these pictures we have all these these bound volumes of girl students from the school in like 1900 and they're beautiful you know and but i don't know who anybody is and so it's tricky but anyway so there's lots of photographs there's audio visual material got lots of cassette tapes and you know these video cassettes and things that one day i will get max communications to help me with and plans and maps and and then we have textiles i haven't uh hope they don't wear the habit they stopped wearing a habit in the mid 60s because um something called vatican ii happened and the then pope kind of tried to shake things up and say that really just women religious and men really just had to be part more part of the world so um it was quite a shock for a lot of the sisters and whom were still living many of them because it was the mid 60s and um there's there's a big uh boom in interest there's a whole uh historians of women religious group whose lists serve i belong to lots of academics really interested in nuns as an area of research because a one of the few groups of women who were literate even from medieval times and who left records behind really so and and definitely are helped to make a complete picture of a time in society so anyway vatican ii happened they stopped wearing the habit and yeah a lot of the sisters some of the sisters left because it was such a different thing than they'd signed up for because they'd been in a closed order they'd been in a silent order apart from when they were in the classroom teaching obviously and and it was just a big change so right so we have but i have a couple of examples of the habit and they used to wear this really elaborate they called it go go go for gopherd it's like a french word i think it's kind of a kind of pancake that's but anyway it's this white yeah stiff yeah stiff linen kind of crenellated hat cap thing and then and then the actual black habit and uh it was very uncomfortable apparently this is just so you did have to wear it tell me and uh and a heavy heavy black cotton so i have textiles and and um you know they all wear like a wedding band sort of when they are married to christ so i have loads of those that i don't again don't feel like i can get rid of but i don't know who they belong to or so so there's that and and then yeah cut like i said the college gown college badges college scarves uh things from yeah the various uh schools do you have artwork oh yes thank you yes i do yeah oh yeah yeah thank you yes um i did well i did a sort of uh itinerary or itineraries of the word now anyway i made a list of what we have yeah there's a lot there's oil paintings uh there's sculptures and there are two sisters in particular there's a sister who was called catherine blood which is a great name for her mother blood uh but they used to call her mother catherine surprisingly because blood was so scary but she'd been before she was a nun she was actually a really um not famous but she would draw she did cartoons for punch magazine and yeah she was quite uh yeah prolific and she they were evacuated during the second world war from the london school to uh a place near rugby and she would send back letters to the mother house with these really funny really funny and uh gorgeous drawings and so we have sets of her her artwork and there was another sister called catherine i know margaret tunur and she was a really gifted um woodcut artist and so we have the original wood cuts like the and then the prints that she made from them and yeah one damn i really want to do an exhibition of those because they're just exquisite and she's been included in books on the subject and some of her work i don't know there's a i forget is it called there's a uh museum in new haven for yale university of sort of craft and things like that and some of her works in there uh so yeah yeah we have a lot of really beautiful stuff do you get kind of interesting requests from researchers about things like that then um i don't because i don't i mean none of the catalog is online we don't really uh advertise ourselves as well as we possibly could as something i'm working on it's a bit of a tricky subject a little bit i have to but most of the researchers that i get fall into two camps they're either doing genealogy kind of thing and they're like oh i think my great aunt was a nun or i think my mother's second cousin was a nun or i think my mother was at the school and you know and those are reasonably easy to field because i have the school registers and also apparently this is unusual there's an academic called anselmnai who helped my predecessor digitized they have they have these like personnel records they call them a lot of the materials in french because they were a french order and that was the language of the order until like the mid 60s again but um there's just kind of like personnel records and they even have them for sisters who left or novices who didn't become sisters and they go right back to the beginning in 1842 when the first like seven sisters came over from france and they list sort of where they were born who their parents were where they were baptized uh where they went to school and the reverse shows all what they call the employments so where they would send them all over the world and teaching in various sacred heart schools and so that's all listed there and he'd started kind of making a spreadsheet and i carried on he got up to about 1930 and so one of the other things i did when i was first in post was finish putting that information you know making digitizing that and i can't remember where i was going with that now what was the question um oh researchers right yeah so yeah so so right so those kind of things help with the first branch of researches and then the others are yeah academics who do tend to be interested in we had um one of the mothers what they used to call mother superior now they called provincial superior uh was a woman called janet stewart and she uh became pr uh superior not just of the uk order but of the international order and she's one of the two nuns that digby stewart college is named after the other was her predecessor mabel stewart mabel digby sorry mabel digni janet erskine stewart and she wrote many books about educating girls and they're still i mean academics are still really interested in what she wrote she passed away in 1914 but um so i get academics interested in her or or historians of education generally and also as i said historians of women religious or even just women full stop uh yeah that's really interesting you mentioned that you would maybe like to advertise the archive a wee bit more but obviously in a sensitive manner what other challenges do you have with managing this archive um the usual one probably that people talk about which is like i.t support again because i'm sort of i'm on a university campus but i'm not really part of the university so when something goes wrong with my i.t i can't really go to the university it support team although i have in the past but i'm sort of an associate kind of member and as i say the rest of the lay staff or in hammersmith they have an i.t guy but it's i'm not networked and so that that on a very practical seemingly maybe not that important level whenever anything it goes wrong i'm just in a flat because it can take a long time to figure out who can fix it who will fix it what i have to do and i'm i'm reasonably okay about it but you know there are certain things that i just kind of hit a wall and i can't so so i t support in a real honorary mundane level is one challenge um sometimes communication can be a little bit tricky as well and it's the usual thing i think that can happen where um many i mean even though the sisters are super lovely and they're always thanking me for the work i do they don't always kind of understand what an archivist does so there can be a bit of like for instance at the moment they are big into what they call digitization which after a bit of digging i realized they meant scanning and they they're really they imagine that i can just scan everything and then no one ever has to worry about it anything happening to the actual physical records and stuff and it's been i feel guilty because i think i might have put this in their minds but now that i'm looking into what it involves and how much it costs and how it maybe doesn't even buy you that much time and you know as things change i'm starting to regret having put that little b in their bonnets but uh yeah that's all i'll say about that we're in negotiation i think those those problems are actually common common archive problems in a lot of organizations though i think a lot of people don't necessarily understand the difficulties and the resources that you need i know i mean i'm only there two days a week that's all i would be doing for start i don't really want to be just scanning things all day even if i had the you know the kit to do with or the funds to send it away and have it done somewhere professionally what is your favorite um part of the archive what would you sort of like people to be aware of that you find most interesting there's a lot of things but i've thought about this i think that what i'll talk about is um so the there's a war memorial on campus that um was recognized by historic england in 2017 and they've given it like grade two listing the chapel that's on site is also grade two listed i found out which is also beautiful the sacred heart chapel but okay the war memorial is unusual in that it was one of the it was erected in may may of 1918 so before the first world war even ended and it was created by subscription of families of students and t and teaching staff and the nuns obviously uh uh raised the money to create it and it's um oh i should do this it's about 125 individual plaques about that big i know it's great for a podcast so about a foot wide and half a foot tall uh and the families themselves were allowed to say what was i mean they all say the name and the date obviously the person passed away but um they have they'll have very um personal messages as well on them and they're just really lovely and and also there are some women included which is unusual a couple of uh women who were nurses and then the mother of four lost four sons who were also on the memorial so we put together me and the heritage officer of uh university of hampton and one of the history uh lectures uh in uh 2014 we started working on putting together an exhibition and by 2018 we had sort of 32 panels uh each sort of focusing on the women there and the sisters and some of the uh more notable families that are mentioned on the memorial site and um yeah so we put up a display in the university library and and that was really good and lots of people came and the sisters were really pleased with it and there's a primary school that was started by the society as well just over the road so the primary school students came over and it was it was really special and and uh lovely so i would say yeah the war memorial is mine are you involved in other exhibitions is that something that you're commonly asked to do um i don't really wait to be asked i mean i this is yeah i realized that when you said you know maybe i don't have to clear even doing this with somebody never really occurs to me that because i'm alone in this office and i just tend to just go ahead and do i do have a line manager but she's usually okay with whatever i you know whatever i think i should do which is great but um yeah i know i just sort of went off on my own pat with this one yeah and also uh then the the the england and wales province celebrated uh it's a hundred and i'm gonna get this wrong now 75th 1842 yeah 2017 whatever that is it was an anniversary and me and the person who looks after the school's network that i mentioned earlier who's named hillary thompson we put together another uh it was a virtual exhibition uh it's just a timeline with all these lovely photos that i've got in the archives of the the society not just in england and wales because they also sent as i say people to australia and india and malta and uh for some reason well the maltese province was part of the uk what they call vicaria at one point when malta was sort of an england english subsidiary yeah holding uh so i got to go to malta that was cool i've done some travel i've been yeah i've been to rome twice that's where the general the central archives are and yeah that's pretty sweet and dublin because my counterpart who looks after the for some reason it's broken into england and wales ireland and scotland yeah so the so the person who looks after the irish and scottish records we have to liaise quite a lot but um but yeah i do try to put these things on and you know with the university library you know they've got like an exhibition space right there so uh it's it's quite tempting to to to have that have that resource and use it really and the sister and a couple of years ago again it was the centenary of the death of mother stewart and i mentioned before and there was sort of an international symposium and that the university did get involved they had sort of a conference and speak lecturers giving talks and uh for that i put together a little exhibition in another chapel that's on site but uh yeah so yeah yeah it's really fun i like i like doing that see this is why you you're still doing cataloging because you're always doing other things when you're archiving putting exhibitions together i know well it's so much more fun than doing cataloging isn't it and it's you know it's worthwhile isn't it people get to enjoy the fruits of your labor and find out what you're protecting yeah and like with the timeline i went over to the nursing home over the road and showed that to the sisters there and kind of went through each slide and it was lovely for them it brought back all kinds of memories and you know and yeah it was it was really good that's so rewarding thank you so much for talking to me today barbara it's been amazing pleasure hearing about it just sounds like such a lovely archive it sounds like you're really enthusiastic about the material that you're working with every day thank you yeah i'd say i am thanks very much thank you cheers cheers